Rates 11 April 2023 - 14 October 2023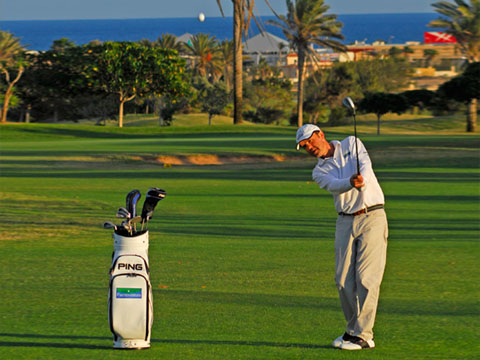 Golf all year long
The course offers sunny weather, a temperature of 22ºC, and delights in the special natural conditions of the islands. It is located in the Fuerteventura Golf Resort, surrounded by 1.500.000 m2, the largest green surface in the islands in between lakes, palm trees and beautiful looked after green-life making it perfect for the ideal golf vacation.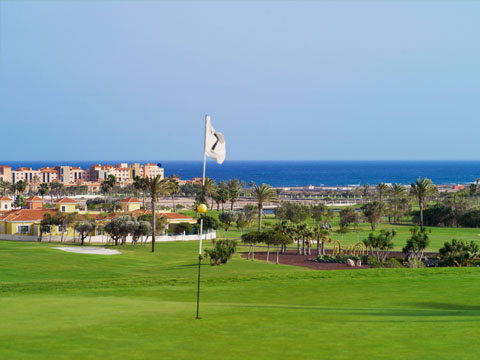 Golf and beaches
A safe environment, quiet, discrete and well communicated, just a few short minutes from the beautiful beaches of Fuerteventura declared a Biosphere Reserve by Unesco.Exclusive destiny for those who are looking to enjoy both golf and beach, nature, landscapes, and many leisure activities.
Golf and beach vacations in an unique place.
| Green fees | 9 holes | 18 holes |
| --- | --- | --- |
| Visitors | 51,00€ | 69,00€ |
| Elba Hotels & Sheraton | 41 € | 55 € |
| Canarian Residents | 35 € | 45 € |
| | - | |
| Services | 9 holes | 18 holes |
| --- | --- | --- |
| Trolley | N/A | 5,00€ |
| Buggy | 20 € | 32 € |
| Buggy replay | N/A | 25,00€ |
| Buggy twilight | N/A | 25 € |
| Rental set | N/A | 20,00€ |
| Premium Rental set | N/A | 35,00€ |
| Twilight 14:00h | N/A | 40,00€ |
| Replay | N/A | 35,00€ |
| Juniors 0-10 years | 0 | 0 |
| Juniors 11-21 years | -35% | -35% |
| Putting Green | |
| --- | --- |
| Token 30 balls | 2€ |
| Range Fee | 6,00€ |
| Rental club (Driving Range. 3 clubs) | 5,00€ |
| | |
Green fees
Visitors
| | | | |
| --- | --- | --- | --- |
| 9 holes | 51,00€ | 18 holes | 69,00€ |
Elba Hotels & Sheraton
| | | | |
| --- | --- | --- | --- |
| 9 holes | 41 € | 18 holes | 55 € |
Canarian Residents
| | | | |
| --- | --- | --- | --- |
| 9 holes | 35 € | 18 holes | 45 € |
Services
Trolley
| | | | |
| --- | --- | --- | --- |
| 9 holes | N/A | 18 holes | 5,00€ |
Buggy
| | | | |
| --- | --- | --- | --- |
| 9 holes | 20 € | 18 holes | 32 € |
Buggy replay
| | | | |
| --- | --- | --- | --- |
| 9 holes | N/A | 18 holes | 25,00€ |
Buggy twilight
| | | | |
| --- | --- | --- | --- |
| 9 holes | N/A | 18 holes | 25 € |
Rental set
| | | | |
| --- | --- | --- | --- |
| 9 holes | N/A | 18 holes | 20,00€ |
Premium Rental set
| | | | |
| --- | --- | --- | --- |
| 9 holes | N/A | 18 holes | 35,00€ |
Twilight 14:00h
| | | | |
| --- | --- | --- | --- |
| 9 holes | N/A | 18 holes | 40,00€ |
Replay
| | | | |
| --- | --- | --- | --- |
| 9 holes | N/A | 18 holes | 35,00€ |
Juniors 11-21 years
| | | | |
| --- | --- | --- | --- |
| 9 holes | -35% | 18 holes | -35% |
Putting Green
Rental club (Driving Range. 3 clubs)
Algunas de nuestras marcas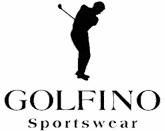 The lastest news at Fuerteventura Golf Club